The kitchen unlocks the value of a home and is the showpiece of most homes. "The ultimate design statement of the home starts in the kitchen," said Dallas-based interior designer Denise MaGaha at the 2018 National Kitchen & Bath Industry Show. At this prestigious kitchen design event, MaGaha reinforced this concept, "With the trend toward open-floor plans, the kitchen sets the stage for all the other design decisions in the home." (See the full Kitchen & Bath Industry round up on how to "Design The Kitchen of the Future" from Forbes Magazine here)
Every 10-15 years design trends change and our kitchens do as well. Designers gravitate towards a look until it becomes mainstream or a "common trend." Our professional design team has pulled together this list of the latest and greatest Kitchen trends from experts across the country... and from our own pulse on kitchens in the 100+ homes we design and build with our Rush Homeowners each year.
Top Kitchen Trends
1. Two-toned Cabinets
Two-toned cabinets are quickly overtaking the white-on-white look that has dominated kitchen design for the past few years. While white remains a classic, grey and bleached-wood cabinet variations are surging in popularity, along with darker neutrals like navy and green.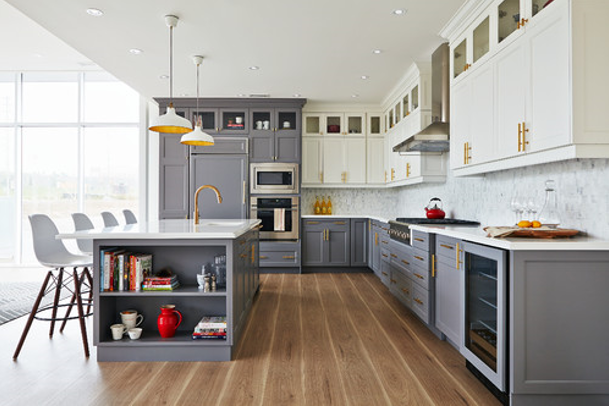 2. Quartz Countertops
Granite reigned as the top countertop choice for many years, but quartz is now king. It's highly durable, low-maintenance and comes in a wide variety of styles and colors. It's also heat resistant, scratch resistant and non-porous (unlike granite and marble) so it doesn't need to be sealed.
3. Bold Backsplashes
After years of dominating backsplash design, the white subway tile is officially on its way out. Expect to see it replaced with more elaborate shapes, patterns, colors and textures. Tile that mimics the appearance of wood, concrete and wallpaper is also gaining in popularity.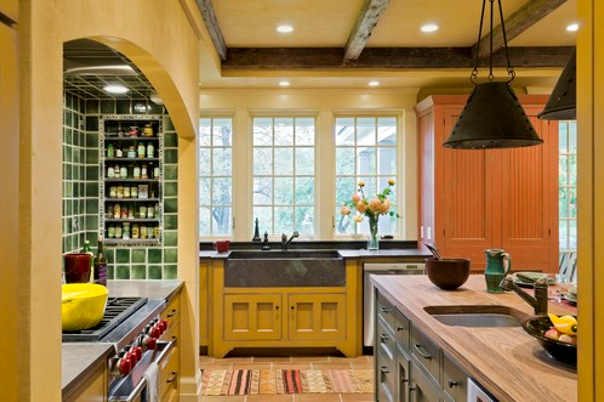 4. Statement Sinks
While stainless steel and white porcelain are always safe bets, the trend is moving toward sinks that make more of a statement. Look for unexpected pops of color and materials like natural stone and copper. Touch-free faucets are expected to gain favor with homeowners this year, too.
5. Brass is (Still) Back
Brass fixtures came back in a big way over the past couple of years and will continue to be a popular choice in 2018 along with matte black, black nickel, polished chrome and brushed nickel. Missing from the list? Rose gold, which is decidedly "out" this year.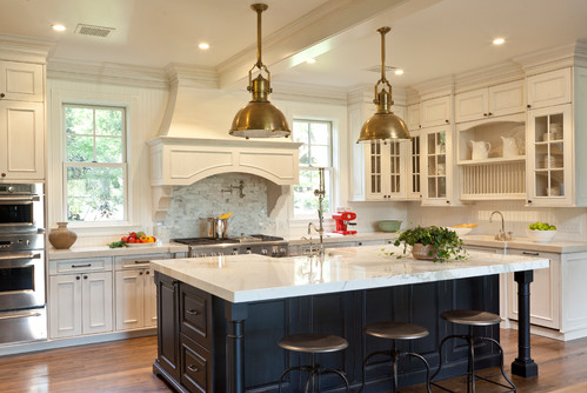 6. Multi-purpose Islands
Kitchen islands have evolved from simple prep-stations into the "workhorse" of the kitchen. Many feature sinks, built-in appliances and under-counter storage while also serving as a casual dining area. They have become the focal point of the kitchen, and we expect to see more of them in 2018 and beyond.
7. Black Stainless Steel
Black stainless steel is the hot new finish option for appliances, and it's hitting the market in a big way. It offers a cutting-edge look and is easier to keep clean than traditional stainless steel. However, it's harder to match finishes amongst different brands, so it's probably only feasible as part of a complete appliance package.
8. Appliance Garages
Appliance garages are counter-level compartments designed to house small appliances like blenders, toasters and stand mixers. They make it convenient to have these items readily accessible, without the look of a cluttered counter.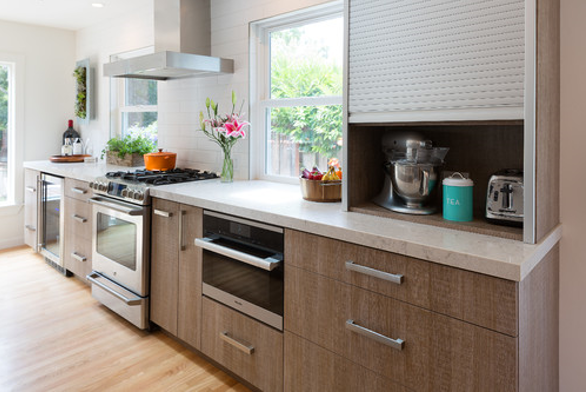 Our Advice:
Remember, style trends come and go, so don't invest in the latest look unless you love it. This can be the case with appliances and countertops, tile accents and more. Even if you absolutely love it, keep in mind that highly-personalized choices (think black tile, or pink toned granite) can limit the appeal of your property for resale.
As a general rule, it's always a good idea to stick to neutral colors and classic styles. It will give you flexibility to update your look in a few years without a total overhaul. Use non-permanent fixtures – like paint, furniture, kitchen countertop accessories and accent pieces – to personalize your kitchen with trendier choices.
Happy Kitchen Designing!