The Bathroom is one of the most central aspects of a home. Not only does the bathroom set the tone for a house, but it's where you start and finish each day. According to designer and architect Bill Hirsch, "Bathrooms, especially master bathrooms, have become far more than the simple, utilitarian room they once were. They have evolved from the simple, white tiled, sanitized spaces into personal retreats and at home spas." (For more on bathroom designs, see the article "The Right Bathroom Design is an important part of your Perfect House" from About Home Design)
From a Buyers perspective, the bathroom plays a pivotal role in determining the overall home value. As design trends fluctuate, It is important to stay up to date with bathroom designs to maintain a marketable, high quality home. With the intelligence of our professional design team, we have compiled a list of the most popular and relevant bathroom trends from across the country, and from the homes we design and build for our Rush Homeowner's.
TOP BATH TRENDS
Expect to see many of the same kitchen design preferences carry over into bathrooms this year, including two-tone cabinets, quartz countertops and brass fixtures.
1. Neutral Tones
Neutral shades will continue to dominate in the master bathroom as homeowners seek a soothing and relaxing retreat atmosphere. But expect to see more options than just white. Shades of brown, grey, blue, green and tan will help to warm things up.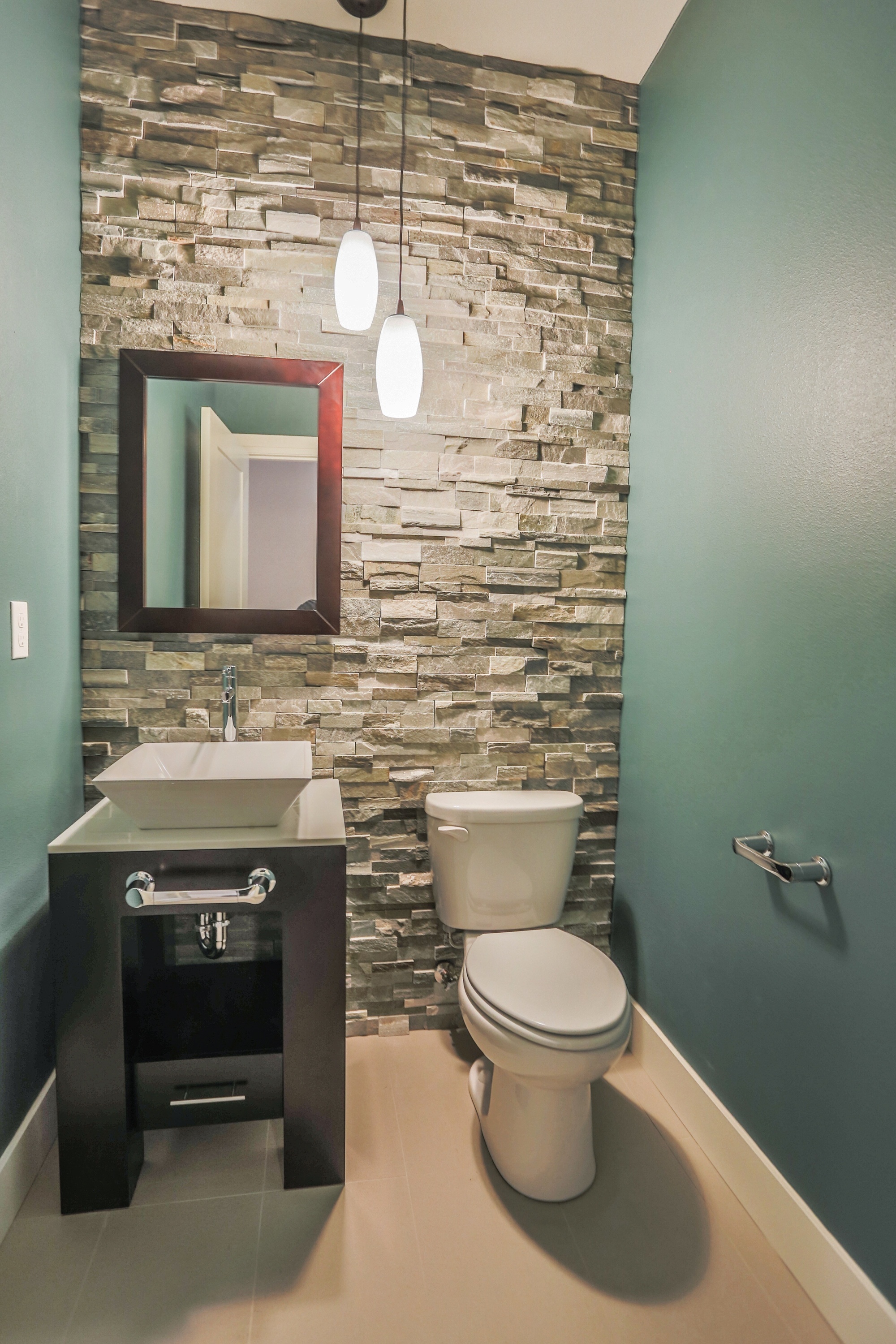 2. Natural Elements
Natural materials are particularly hot right now in bathroom design. This includes the use of wood and stone on walls, cabinets, counters and backsplashes, as well as the incorporation of botanical design elements.
3. Large Tiles
We expect to see a lot more large and slab-sized tiles in bathrooms, which have less grout so they are easier to clean and maintain. Wood-look porcelain tiles are also a favorite in wet areas, as they offer the warmth and rustic appeal of wood with the durability of tile.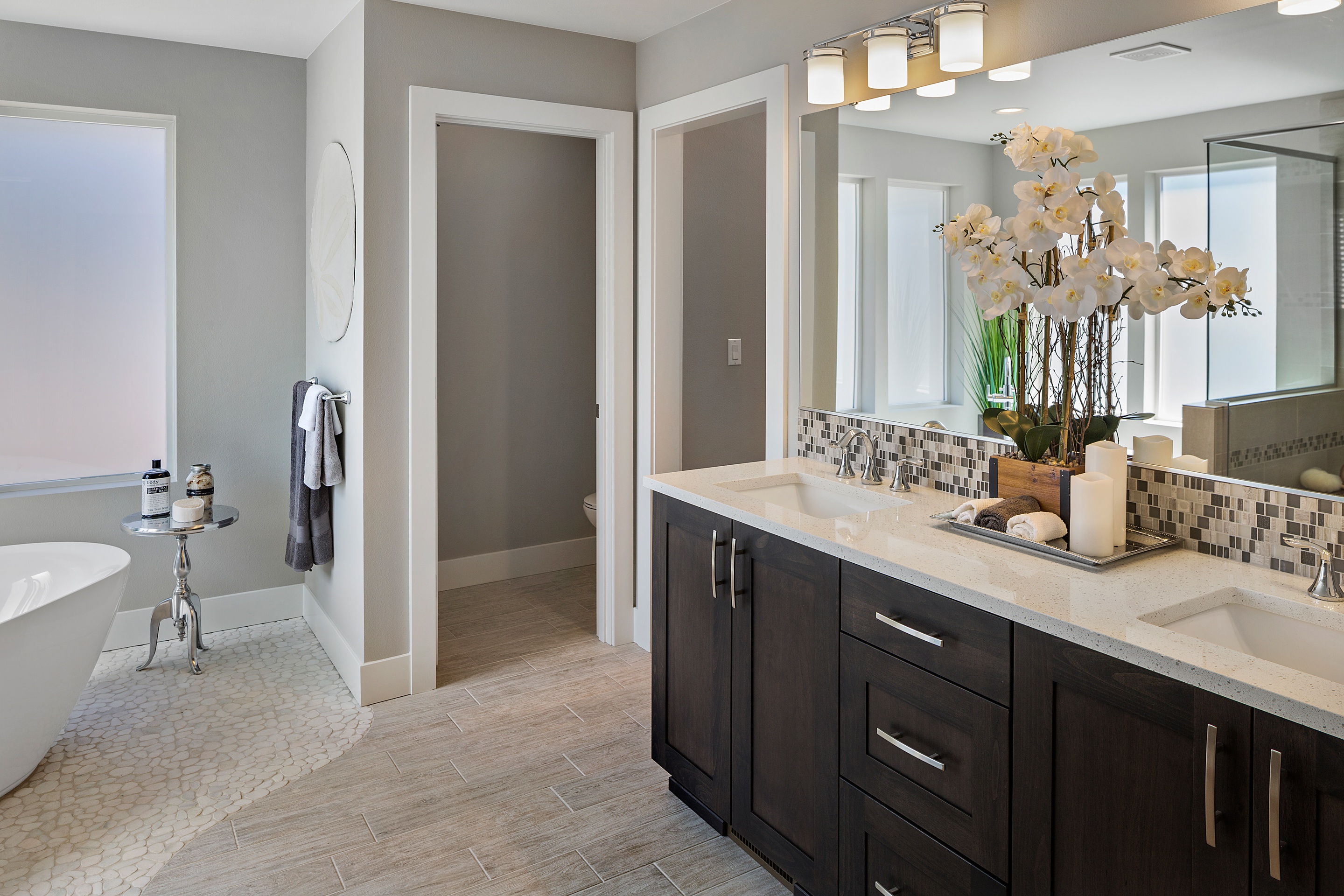 4. Stone Sinks
Sinks will continue to be an area where homeowners like to exhibit creativity, and hand-carved stone sinks are especially fashionable right now. These may be more suited to powder rooms, where functionality isn't as crucial.
5. Freestanding Tubs
There's been a tub resurgence in bathroom design after years of preference for stand-alone showers. Modern tastes are gravitating toward freestanding tubs that serve as a showpiece for the bathroom.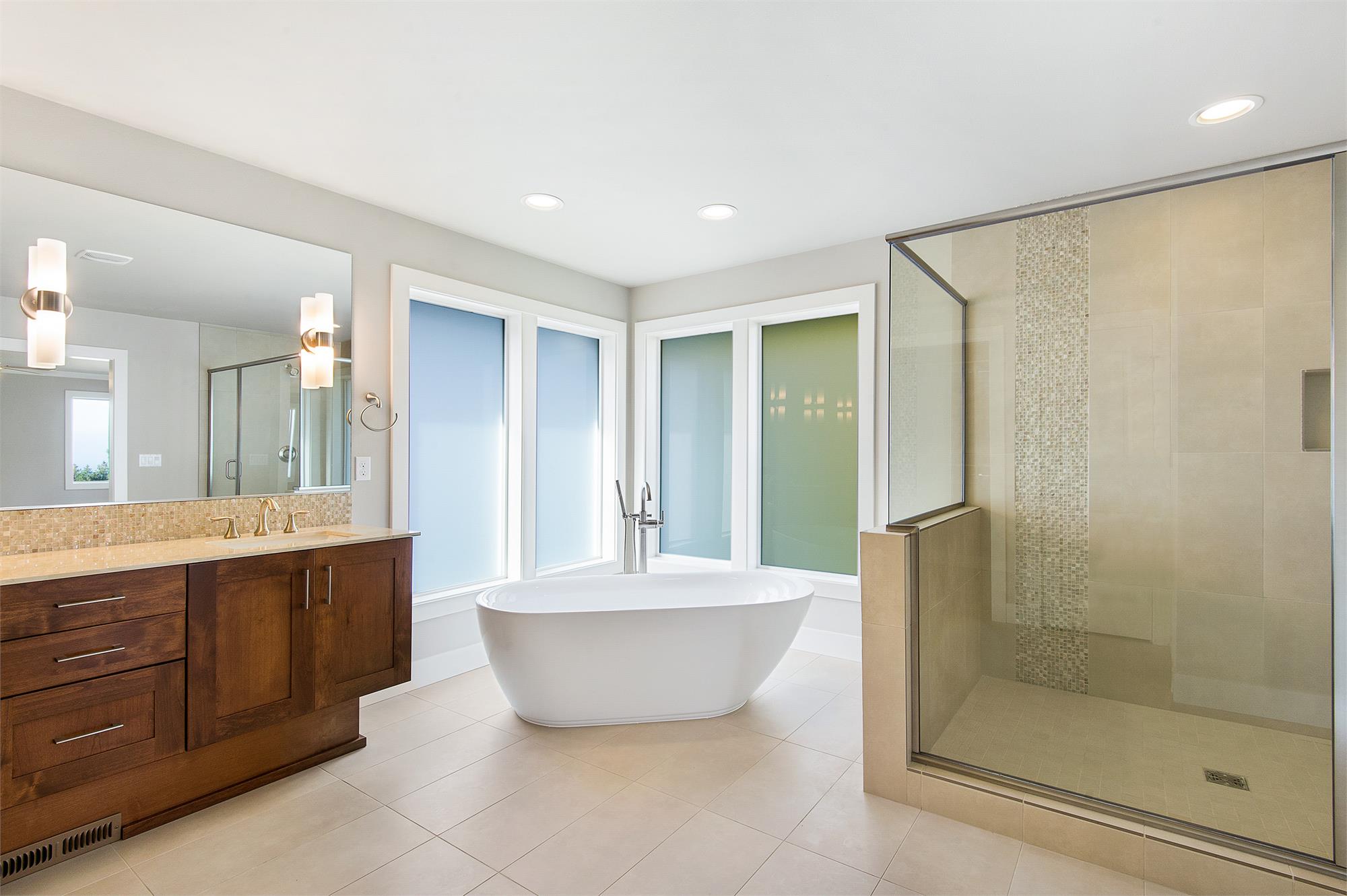 6. Smart Features
Smart technology has entered the bathroom with the addition of features like wireless shower speakers and high-tech toilets, as well as digital shower controls that automatically adjust to your preferences in temperature and spray intensity.
Our Advice:
Remember, style trends come and go, so don't invest in the latest look unless you love it. This can be the case with cabinet styles, countertops, tile accents and more. Even If you absolutely love it, keep in mind that highly-personalized choices (think ceramic floor tiles, or patterned wall papers) can limit the appeal of your property for resale.
As a general rule, it's always good idea to stick to neutral colors and classic styles. It will give you flexibility to update your look in a few years without a total overhaul. Non-permanent fixtures such as vanities, bathroom countertop accessories, and accent pieces are trendier choices for bathroom personalization.
Check out our design team or contact us for assistance! We're happy to offer our insights and suggestions on how to maximize your return on investment
Happy Bathroom Designing!