Low maintenance homes are increasingly desirable. As people are investing in home selection choices, whether in new construction or in remodeling projects, selecting products that stand the test of time (with the least amount of maintenance) are ideal. See our round up of top trends and products below - including the factors to consider when selecting these products for your new home or remodeling project.
Current trends include: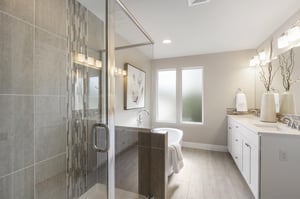 Wood-look Flooring Such as Porcelain Tile - It is beautiful, durable and easy to clean. Wood-look porcelain tile is allergy friendly, holds up to spills and is ideal for high traffic areas and household with pets.

LED Lights - Switching lights from CFL to LED can not only help save on energy bills, but will also save time and energy by not having to replace light bulbs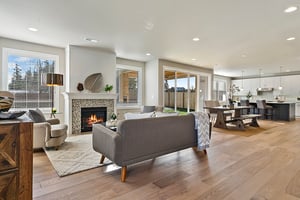 Washable Paint Finishes - Washable paint finishes that can be wiped down are very useful, especially for high-traffic areas and families with kids and pets.

Non-porous Countertop Materials - Countertop materials like an engineered stone such as quartz are non-porous, resist stains and scratches, and do not require sealing.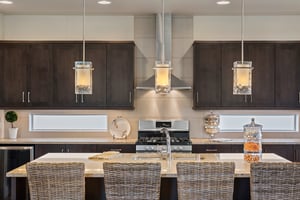 Full Height Kitchen Backsplash - These are more costly to install but installing tile as an accent to cover the wall entirely from the counter to the bottom of the upper cabinets is a splurge worth pursuing. Full backsplashes help customize a kitchen space while protecting kitchen walls against cooking splatter. Tiles can wipe off in a snap, while painted walls with short height back splashes often require frequent repainting.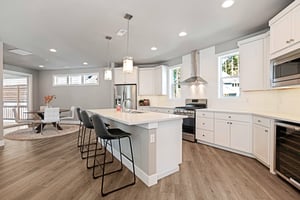 Engineered Hardwood - More resistant to fluctuations in temperature and humidity than solid wood flooring, and easy to clean. Mostly found with a click fitting system, making it quick and easy to install and the top layer can be sanded and re-finished if necessary, since the top layer is real wood.
Vinyl windows - Vinyl Windows help keep energy costs low because the insulation in the frame of the window itself is energy efficient. They are nearly 100% scratch free and don't require painting over time.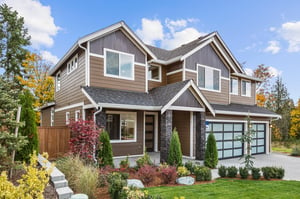 Composite Exterior siding - Composite siding such as Fiber Cement by James Hardie, comes with a 30-year warranty ensuring the longevity of your exterior siding. It doesn't attract pests and resists water absorption. The James Hardie "Baked-on ColorPLus" technology provides greater resistance to fading, chipping, and cracking than field applied paint, meaning less maintenance on your siding.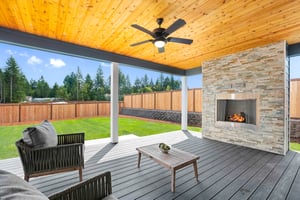 Composite Decking - Decking, like Trex, is stronger and more resilient than its plastic and wood counterparts. While plastic and composite decking may both last between 25 to 30 years, a composite deck will retain its beauty and look new longer than a deck made from other materials.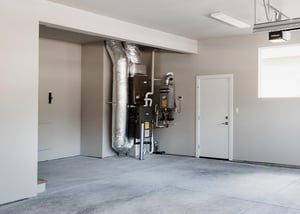 On Demand (tankless) Water Heaters - While a traditional tank water heater heats water continuously, tankless water heaters heat only as much water as needed, when it is needed. By heating water on demand, tankless units can reduce energy use by 24 to 34 percent compared to traditional water heater tanks. On average, tankless water heaters last five to 10 years longer than tank water heaters. With proper maintenance, a tankless water heater can offer up to 20 years of lasting use.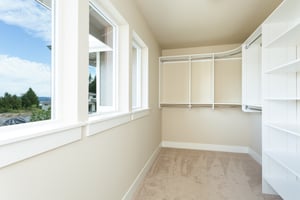 Melamine Closet Shelving - Melamine is waterproof, shatter and scratch resistant. Wipe and go for easy maintenance. No need to repaint, sand, refinish over time.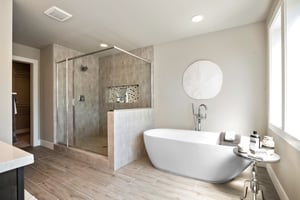 Moen Plumbing Fixtures - Choosing high end plumbing fixtures for faucets, sinks, baths and showers (such as Moen products) ensure you are choosing products that are built to last and are highly durable. Using cheaper brands requires extra maintenance and often early replacement over time.
Recently named "Builder of the Year" for the second year in a row, Rush Residential produces high quality homes that incorporate these low maintenance trends in all of their homes. An emphasis on quality, design, customer care, and sustainability centers every aspect of the Rush home buying experience around you. At Rush Residential, our mission is to develop communities that exceed expectations. We aspire to move every customer into an exceptionally crafted Rush home that will serve generations to come.